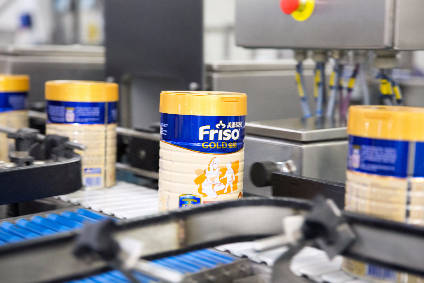 FrieslandCampina, the Dutch dairy co-operative, increased its profits in 2015 amid lower input costs and moves to sell more "added-value" products.
The company posted a 13.2% rise in net profit to EUR343m (US$373.9m). Operating profit was up 17.8% at EUR576m.
Revenue dipped 0.7% to EUR11.27bn. Stripping out the impact of foreign exchange, revenue was down 4.1% at EUR10.88bn. FrieslandCampina said it felt the benefit of currency fluctuation, M&A and volumes but revealed its selling prices dropped by 7.2 percentage points.
The pressure on prices of dairy commodities worldwide helped FrieslandCampina's costs. FrieslandCampina said its cost of goods sold dropped 6.2% mainly due to the lower price of raw milk, although it also cited cost reductions across its businesses and better buying conditions for raw materials.
The sale of more added-value products in Asia helped FrieslandCampina's margins, as did higher revenues from dairy ingredients and infant nutrition by the company's ingredients arm.
CEO Roelof Joosten said 2015 had been an "exceptional year" for the dairy sector and for the business. "In an uncertain dairy market FrieslandCampina performed well. This good result could, to some extent offset the reduction of the milk price for member dairy farmers," he added.
FrieslandCampina expects global milk production to continue to increase in 2016 but said it was uncertain whether demand would increase at the same rate. Demand from China and Russia's embargo on EU dairy imports will be two key factors, the company said.
"As a result of these developments, prices for basic dairy products are expected to remain under pressure for some time," the co-operative said.
FrieslandCampina also had a note of caution about the impact of low oil prices, which it said would hit economic growth in exporters like Nigeria and the Middle East, and "geopolitical tensions" in several regions.
The co-operative said it would again look to cut production and administrative costs "to offset the pressure on results and to enable investments".