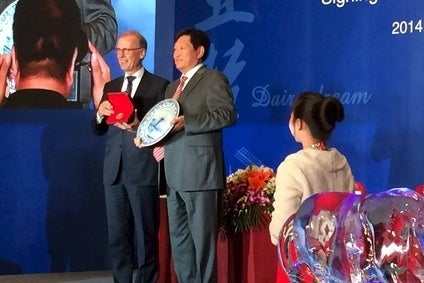 Frieslandcampina and Chinese dairy firm Huishan Dairy Holdings Co. have finalised plans for an infant formula venture in China.
The agreement follows talks held in May. Both companies will own each 50% of the shares in a venture that will produce and distribute infant milk formula in the country.
The new business will own Huishan Dairy's Xiushui dairy plant near Shenyang in north-east China. FrieslandCampina has invested US$114m for a 50% stake in the plant. It will also purchase US$30m worth of Huishan shares on the Hong Kong stock exchange.
Cees 't Hart, FrieslandCampina's CEO, said: "Huishan Dairy's solid local supply chain combined with our more than 140-year history of developing state-of-the-art technology and expertise in the Dutch dairy industry will enable the joint venture to build a strong long-term relationship with its Chinese consumers."
Yang Kai, CEO Huishan Dairy, added: "This co-operation will combine best of two worlds: Huishan Dairy's top quality raw milk combined with world class Dutch dairy technology and heritage."