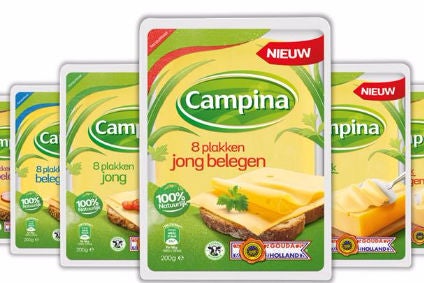 FrieslandCampina managed to grow its profits in 2016, a year the Dutch dairy giant described as "turbulent" and one in which the company saw its sales fall.
The co-op today (2 March) booked a 5.5% rise in net profit to EUR362m (US$380.4m) for last year.
FrieslandCampina felt the impact of exchange rate movements on its results. Its underlying net profit was up 8.7% at EUR373m. The Dutch Lady owner's operating profit fell 2.3% to EUR563m but its underlying operating profit increased 3% to EUR593m.
Looking at FrieslandCampina's divisions, the co-op said Consumer Products Asia, Consumer Products China and its combined Cheese, Butter and Milkpowder arms all saw their operating profit rise.
However, the owner of Milner cheese and Yazoo milkshake said the operating profit from its Consumer Products Europe, Middle East and Africa division, as well as its ingredients unit declined.
The company's revenue fell 1.9% to EUR11bn, with FrieslandCampina pointing to the impact of currency fluctuations, particularly on its business in Africa. Stripping out the impact of exchange rates, revenue was flat at EUR11.21bn.
However, FrieslandCampina also reported a 2.7% fall in sales prices across its business.
The sales volumes of "added-value" products, including infant nutrition and dairy-based beverages, rose 2.8%. The volume of "basic" products
grew by 2.7%.
CEO Roelef Joosten said: "We are looking back on a turbulent year. Political and economic instability has increased in Africa and in the Middle East. Protectionism is increasing throughout the world. In the first half of 2016, the supply of milk in the European Union was of such magnitude that basic products could only be sold below cost. Starting in May, the dairy sector recovered somewhat due to declining milk production in a number of European countries and the relatively low stocks held by buyers. FrieslandCampina anticipated this development by introducing timely price increases in the cheese and butter segment. For the coming year, the company's decisiveness will become even more key to be able to respond to the rapid changes in the market on a timely basis."