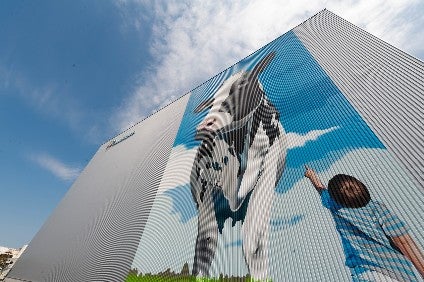 FrieslandCampina has put on hold plans to expand production capacity, with the Dutch dairy cooperative having to adapt to a fall in its supply of milk.
The Milner cheese and Friso infant-formula owner had been planning to invest in capacity to meet demand and to makes changes to its existing production network.
However, pressure on the co-op's milk supply has caused FrieslandCampina to think again on what it called today (25 July) "the planned strategic expansions of processing capacity" – including a possible project to build "a sustainable and innovative" processing plant in the Netherlands.
"The decrease in milk supply is partly due to members who left the cooperative or who stopped, but it is also important to mention in this context there are fewer cows as a result of the phosphate-related restrictions [through] phosphate legislation in the Netherlands, limited feed stocks due to last year's drought and higher feed costs," a spokesperson for FrieslandCampina said.
Asked if and when the co-op could decide to re-start the plans to expand capacity, the spokesperson added: "We cannot say when. But we will continue to focus on realising flexible capacity for processing the milk from member dairy farms. Also replacement, maintenance [and] safety can be reasons to go ahead."
FrieslandCampina, meanwhile, today filed its financial results for the first half of 2019. Revenue was flat year-on-year at EUR5.7bn (US$6.3bn).
Operating profit increased 18.6% to EUR210m – and FrieslandCampina said the reduced milk supply in the Netherlands had contributed to the improved profitability due to a fall in the production of "still loss-making, basic dairy products", such as butter and milk powder.
Net profit rose 11% to EUR121m.