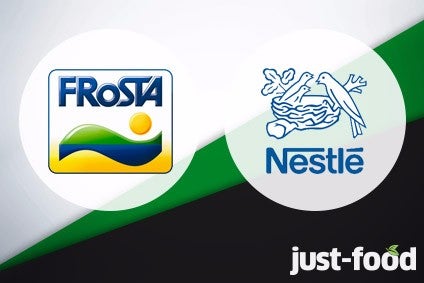 German food maker FRoSTA confirmed today (10 April) that it has entered into negotiations with Nestle over the potential acquisition of various frozen food brands belonging to the Swiss food giant in Italy.
"Frosta has entered into exclusive contractual negotiations with Nestle. The subject of negotiation is the sales business including the trademark rights for the La Valle Degli Orti, Mare Fresco and Surgela [brands] for the Italian market," the German group said in a statement.
Frosta added that "within the framework of exclusivity" it is examining whether such an investment is "suitable" and "beneficial" for the company.
A spokesperson for Nestle confirmed the details released by Frosta. "We have nothing to add to this," the spokesperson added.
MainFirst analyst Alain Oberhuber estimated that the brands are a "small" part of Nestle's European frozen food portfolio. While Nestle has not disclosed the brand's total sales, Oberhuber suggested that sales were likely to total in the region of EUR100m (US$105.8m).
"We assume that the divestment multiples are interesting at the moment as average transaction multiples for frozen prepared dishes/culinary businesses are around 2 times sales and around 11 EBITDA," he wrote in a note to investors.
Nestle has been selling off what it has identified as "non-core" businesses in order to focus resources on areas that the group believes will deliver stronger returns. Nestle's portfolio pruning has included the sale of its Italian confectionery brands, including Rossana and Fluxes, to Italian candy maker Fida last year.