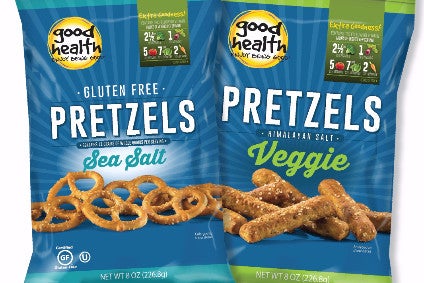 North Carolina-based functional food producer Good Health has added two new savoury snacks to its portfolio of better for you foods.

Veggie Pretzels and Gluten Free Pretzels join the Good Health stable, with the new products including Extra Goodness, a proprietary nutrient blend which claims to offer the same vitamin make up as two and a half cups of broccoli, providing 25% of the recommended amount of vitamin A; one beetroot which provides 10% of vitamin C; five tomatoes which fulfils 15% of vitamin E needs; seven cups of spinach, which provides 20% of vitamin B6 and two carrots, giving 20% of the requisite vitamin K per serving.
"Helping families make truly good decisions when it comes to snacking without feeling like they're sacrificing taste is at the core of everything we do at Good Health," said Mary Schulman, vice president of strategy at Good Health.

"Perfect for modern families, our crunchy, mouthwatering pretzels give the snack category pizzazz by offering tasty gluten-free options for those with and without gluten intolerances, as well as the excitement of Extra Goodness."
Made without hydrogenated oils, preservatives, trans fat and artificial colours, Good Health claims its new pretzels offer an indulgent snack without the guilt.
The Veggie Pretzels are made with dehydrated veggies and sprinkled with Himalayan salt. The Gluten Free Pretzels are made with whole grain brown rice flour and bamboo plant fibre.

In addition to its new savoury snack line up, Good Health offers a portfolio of vegetable, potato and sweet potato kettle style chips cooked in premium alternative oils like olive oil and avocado oil, Veggie Stix and straws, popcorn, pretzels, and apple chips.
All Good Health products are available throughout the US in natural and grocery stores including Safeway and Kroger, as well as national retailers such as Target , Walmart and CVS Pharmacy.