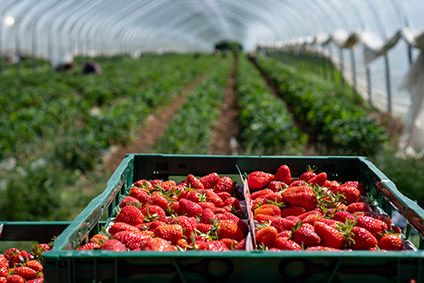 George Eustice, the UK's Environment Secretary, has said he is in talks with industry to see if furloughed, or temporarily laid off, workers could help with picking fruit in June.
Answering a question from a journalist after delivering the UK government's daily Covid-19 update yesterday (26 April), Eustice said help is needed to get the fruit picked as only around a third of the migrant workforce which usually carries out the task is currently available.
Between 70,000 and 80,000 seasonal workers are required each year to harvest crops in the UK.
He said: "We are working with industry to identify and approach that will encourage the millions of furloughed workers in some case to consider taking a second job helping to get the harvest in in June."
Last week, the UK's National Farmers' Union announced the launch of an online recruitment hub, devised in partnership with the Government, for fruit-and-veg businesses to advertise roles for this year's harvest.
"As the peak summer harvest approaches, we have been working closely with DEFRA to ensure a solution is in place for businesses to recruit domestic workers this summer," NFU vice president Tom Bradshaw said.
"There will be thousands of vacancies opening up on farms across the country in the coming weeks and we have already seen a fantastic response from the public wanting to pick for Britain this summer.
"Farmers are incredibly proud to be producing food for the nation at this crucial time but there are challenges and the support of the British public is incredibly valued."
In the briefing, Eustice had issued an update on food supply availability of labour issues.
He said: "The food supply chain has also seen a significant reduction in staff absence over recent weeks as staff who had been self-isolating through suspected coronavirus symptoms have returned to work. So absence levels are down from a peak of typically 20% in food businesses three weeks ago to less than 10% at the end of last week and in some cases individual companies reporting absences as low as 6%."