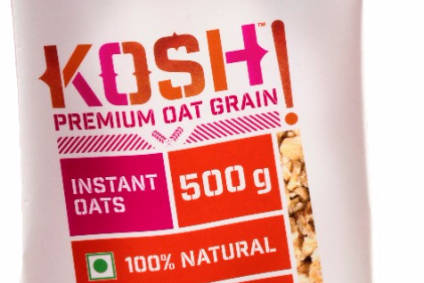 The consumer products business of Indian conglomerate Future Group is launching a brand of oat products in the country, kOsh, with the aim of increasing consumption of the grain.
Future Consumer Ltd (FCL) said it wants to grow Indian sales of oats and position it as the "third grain" behind staples rice and wheat.
FTC said its offering is "different" from other oats brands because it "views the consumer through the lens of Indian-ness" and presents a range of oat products that reflect national preferences.
Kishore Biyani, group CEO at Future Group, said: "The launch of Kosh oats is such an attempt to set a trend in the food space by introducing it as the third grain of India. Oats has always been introduced as a breakfast item. With Kosh, we strive to change that and make it India's third grain that can be used in every meal right from starters to the desserts."
Kosh oats are sourced in Australia and processed at a production facility in Srilanka.
The new brand will initially consist of four products: Kosh instant oats, Kosh broken oats, Kosh oats atta and Kosh wheat and oats atta.
Kosh will be distributed extensively through various modern retail stores across India, the company said. The brand will be distributed in 12 "key cities" to begin with and go national in the "coming months", FCL said.
The launch will be supported by a marketing campaign including print, electronic and digital media.