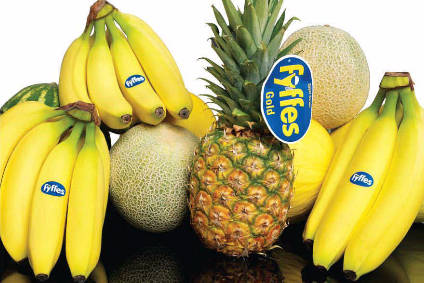 Irish produce group Fyffes reported higher comparable earnings as it achieved a "step-up" in profitability in 2015.
In a filing this morning, Fyffes revealed adjusted operating profit for the full-year – excluding exceptional items – rose to EUR44.5m, up from EUR32.5m in 2014.
The company noted: "Fyffes achieved a strong result in the banana category in 2015, with a mid-teens percentage increase in operating profits. Fyffes added that its pineapple operations delivered a "strong" result while the performance of its US melon business was described as "broadly satisfactory".
However, higher exceptional items in 2015 – primarily related to adjustments to the group's pension scheme – hit total operating profit by EUR11.9m versus a positive contribution of EUR98,000 last year. Operating profit fell to EUR32.5m from EUR38.9m and net profit dipped to EUR27.5m from EUR34.1m.
Fyffes sales increased to EUR1.22bn, up from EUR1.09bn in 2014. "Excluding the positive translation impact of the weaker Euro on the group's US dollar and Sterling denominated sales, underlying revenue growth in 2015 was 7%. This was mainly driven by further organic volume growth in the Group's banana and melon categories," Fyffes revealed.
Looking to 2016, Fyffes chairman David McCann said that the company is focused on "consolidating" the "step up in profitability in 2015". The company set an EBITDA range of e EUR42m-EUR48m, compared to EUR45.8m in 2015.