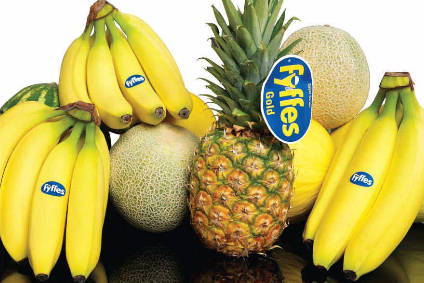 Fyffes, the Ireland-based fresh produce group, this morning (2 September) reported higher half-year sales and profits.
Adjusted profit before tax amounted to EUR35.5m (US$39.7m), 4.5% up on the same period last year.
EBITDA was EUR44m for the first half of 2016, an 11.3% increase compared to the corresponding period last year.
Fyffes' net profit stood at EUR29.9m, versus EUR26.6m in the first half of 2015.
Total revenue, including the group's share of its joint ventures, increased by 14.7% in the first half to EUR739.3m. Group revenue, excluding Fyffes' share of its joint ventures, amounted to EUR630.5m in the period, an increase of 16.6%.
Fyffes chairman David McCann said the company is "maintaining its strong full-year target earnings ranges", which were increased in April 2016 following the acquisition of Canadian mushroom business Highline Produce. "The result for the first half of the year was satisfactory given the difficult prevailing market conditions, including adverse currency movements as a result of the weakness of sterling and the euro against the US dollar."
McCann said the group was pleased to have completed the purchase of Highline during the period. He said: "Highline has performed in line with our expectations for the three-month period post acquisition. The first-half results in the group's other product categories were in line with the same period last year in aggregate, with strong performances in the pineapple and melon categories."
The increase in turnover in the period included the first-time contribution from Highline, for the three months post-acquisition, Fyffes said. "In addition, the group achieved volume growth in each of its existing product categories in the period, including the first time contribution from the additional melon farming assets acquired at the end of 2015. There was also some price inflation in each of these product categories."
Declan Morrissey, an analyst at stockbrokers Davy Research, said: "Fyffes' H1 results are in line with our forecasts, albeit the profit mix favours the melon and pineapple categories with the banana segment impacted by adverse FX in the period. Excluding the contribution of Highline, underlying EBITA was flat year-on-year in the first half."