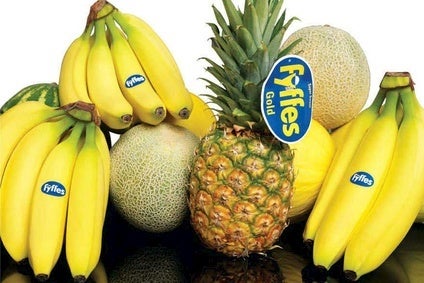 Fyffes, the Ireland-based produce group, has snapped up banana and melon farms in Central America.
The company said it had bought a banana farm it had been leasing in Costa Rica for US$15m. The group has also acquired "additional melon farming assets" in Central America, a move it said would boost its capacity in the melon category by "close to 25%" for the 2015/16 US import season, which starts next month.
Fyffes, meanwhile, also told investors it had closed its Irish defined benefit pension scheme to both future accrual and future liability. The company has made final payments of EUR20m to wipe out the liability, which it said would increase annual operating profits by around EUR1m.
In a statement, Fyffes said: "Fyffes continues to be strongly cash generative and, following this series of earnings enhancing developments, it anticipates that year end net debt will not exceed one times target Adjusted EBITDA for the year. Fyffes remains confident about the future prospects of its business and is well placed to compete strongly in its key markets, following these and other important strategic and operational developments in recent years."
Last year, Fyffes was set to merge with Chiquita Brands International but the deal was terminated after the US produce giant accepted an offer from Brazilian juice maker Cutrale Group and investment firm Safra Group.