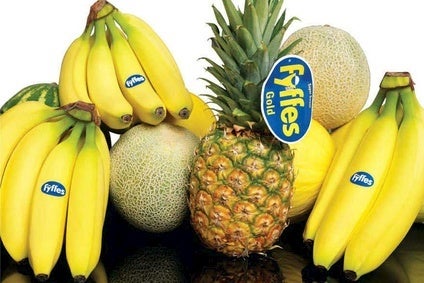 Ireland-based banana group Fyffes has said it is pursuing price hikes in an attempt to offset currency fluctuations, in particular the strengthening of the US dollar against the euro and sterling.
Fyffes said it was looking for "necessary increases in selling prices in all markets".
In a statement released ahead of its annual general meeting today (30 April), Fyffes said it has delivered a "positive performance" since January.
The company achieved a "significant" step-up in productivity last year and management said Fyffes remains focused on maintaining a higher earnings range – and would push through price increases to secure this. Fyffes said it expects EBITDA to fall in a range of EUR44-50m in 2015.
The group had been set to merge with Chiquita Brands International last year – a deal that was ultimately scuppered following a rival bid for the US produce firm from Brazilian juice group Cutrale and investment firm Safra. Fyffes said it "continues to actively pursue a number of development opportunities" in order to "grow the group further and increase shareholder value".