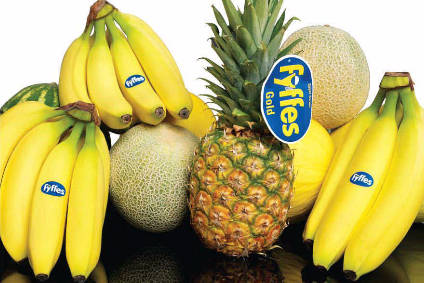 Irish produce group Fyffes raised its full-year outlook this morning (29 April) to reflect the expected contribution of recently acquired business Highline Produce.
Fyffes said it now anticipates EBITDA of EUR63-69m (US$71.7-78.6m) , up from a previous range of EUR54-60m and last year's EBITDA of EUR56.1m. Fyffes said operating profit is likely to total EUR49-55m, versus prior guidance of EUR42-48m and last year's EBIT of EUR45.8m. The company also provided an EPS range of 12.8–14.5 cents, compared to its earlier outlook of 11.4–13.1 cents and 2015's earnings of 12.73 cents per share.
Fyffes said its existing business is performing in line with expectations but raised its guidance on the back of the expected nine-month contribution from Highline, Canada's largest mushroom processor, which it acquired earlier this month.
"Fyffes remains confident about its future prospects, including the performance of its new mushroom business, and continues to focus on its ongoing development with a view to increasing shareholder value," the company said.