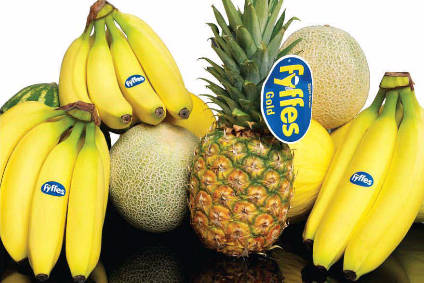 Irish produce company Fyffes could raise around EUR40m (US$44.9m) to fund further acquisitions through a share placement.
In an announcement after markets closed yesterday (15 September), the company said that it has hired The Davy Group to manage the sale of 30m shares in the group.
Based on its current share price, Fyffes looks likely to raise in the region of EUR40-45m through the sale.
Fyffes has been growing its business through global M&A. Last week, Fyffes revealed it has entered into an agreement to acquire Canadian mushroom group All Seasons for CAD59.1m (US$45.9m). In April, Fyffes said it would pay CAD154m for Canadian mushroom company Highline Produce.
The company indicated yesterday that proceeds will be used to maintain the health of its balance sheet and fund further acquisitions.
"Following the company's move into the North American mushroom category through the recent accretive acquisitions of Highline and All Seasons, the net proceeds of the placing will maintain the balance sheet strength and liquidity of the company and provide funds for further acquisitions as part of Fyffes' strategic objective to grow its business by pursuing attractive acquisition opportunities across each of its four existing and other new product categories."
Fyffes shares were trading slightly lower today, slipping by 3.85% at noon today.