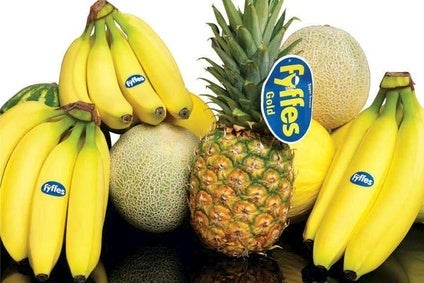 M&A remains part of Fyffes' plans for growth, the fresh produce group said today (27 February) as it announced a jump in annual profits.
Fyffes said profits increased to EUR34.1m (US$38.4m) last year compared with EUR26.1m in 2013.
Operating profit increased to EUR38.9m against EUR29.9m year-on-year.
Sales were up 2% at EUR1.09bn. The increase in turnover in the year reflected organic volume growth in the pineapple and melon categories, offset by price deflation in bananas and pineapples.
Last year, Fyffes was locked into a takeover battle with Brazilian juice group Cutrale and investment firm Safra, over banana producer Chiquita Brands International. Fyffes and Chiquita had planned to merge but Cutrale-Safra tabled a bid for Chiquita and ultimately ended up buying the US group.
"The group is focused on continuing to grow the business and is actively pursuing a promising number of attractive acquisition opportunities," Fyffes said in a statement today.