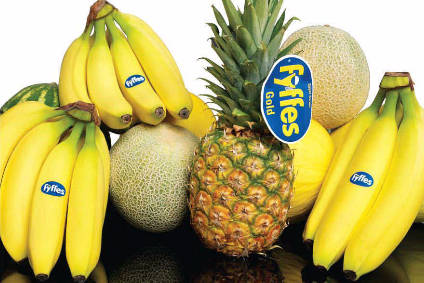 Irish produce company Fyffes has been suspended from its membership of the Ethical Trading Initiative (ETI), the UK multi-stakeholder partnership aimed at improving conditions in agricultural and manufacturing supply chains.
The ETI said the decision of its board on 4 May follows a probe into allegations by local unions that Fyffes abused workers on plantations in Central America.
According to the ETI, evidence submitted by all parties involved upheld "key aspects of the complaint, deeming them substantive and robust". The ETI said a Fyffes remediation plan "failed to fully address the issues raised".
Fyffes now has 90 days to work with the International Union of Foodworkers (IUF) "to reach a mutually agreeable framework for engagement", the ETI said. "Failure to do this… would result in expulsion from ETI membership."
ETI executive director Peter McAllister said: "Labour rights issues can be complex. With many different parties, and often across different cultures, there is frequently room for different interpretations and genuine ambiguity."
"However, there is one constant for ETI that has been at the heart of the dispute between IUF, Banana Link and Fyffes with respect to the Suragroh operations in Honduras; workers should be able to enjoy their right to be represented by those they choose and so engage with management," McAllister said. "Fyffes' suspension from ETI, whilst not a decision that has been taken lightly, offers a focused and time-bound opening to grasp the opportunity that such engagement represents."
A Fyffes spokesperson could not be contacted for comment by just-food at the time of this article being published.
In February 2016, just-food reported on claims from UK union the GMB, which alleged 14 female workers on a melon plantation in Honduras had to go to hospital after being "poisoned by the noxious chemicals they were forced to handle without any personal protective equipment".