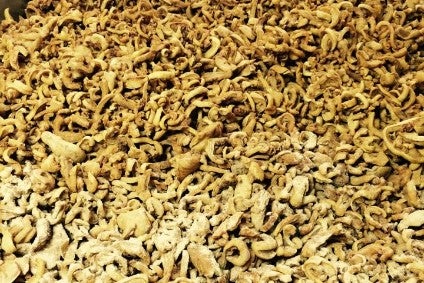 Family-run UK pork crackling manufacturer G Simmons & Sons plans to expand its premises with funding from a local bank as it seeks to cater to increasing demand.
Based in Walsall in the West Midlands, the company distributes its products in the UK and Ireland and is now aiming further afield to new markets in Europe. With sales volumes expected to reach two million this year, the firm has secured GBP334,000 (US$462,342) in financing from Santander Business Banking.
Santander's relationship director Chirag Mistry said: "From our first contact with G Simmons & Sons it was clear this was a business with huge potential. The business is well placed to capitalise on some fabulous opportunities and Santander is excited to be supporting this ambitious family business as it grows and prospers."
Created by Graham Simmons more than 40 years ago, initially as a butcher's shop, the business is now run by his sons Shaun and Mark.
"Our business began as a simple butcher's shop and has grown into a national supplier thanks to the dedication of our family and the team," said Shaun Simmons. "The expanded premises will allow us to meet the increased demand and help us achieve our long-term aspiration of becoming an international supplier of pork scratchings."