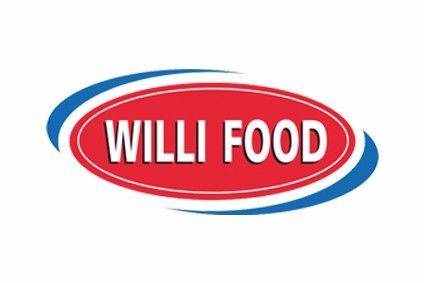 Israel-based company G. Will-Food International has reported a jump in half-year profits, with sales growing but its earnings boosted after the departure of two senior executives meant lower administrative costs.
G. Willi-Food's net income for the six months to the end of June stood at NIS12.5m, up sharply from the NIS2.5m generated last year.
Similarly, operating income reached NIS15.8m, compared to NIS5.3m in the first half of 2015.
G. Willi-Food reported a 1.2% increase in sales to NIS159.3m. The company's gross margins rose from 20.1% to 26.5%, with the business pointing to moves to sell "a favourable mix of products" and "successful negotiations" with suppliers on commercial terms.
However, a fall in G. Willi-Food's general and administrative expenses gave a further boost to its profits. For example, reflecting on the second quarter, G. Willi-Food pointed to "a significant decrease" in the costs of management salaries of Zwi Williger, the company's former co-chairman and president, plus Joseph Williger, a former director and president of the company.
G. Willi-Food announced in November last year the Williger brothers, alongside then CEO and CFO Gil Hochboim, were standing down. They left their positions in January. No reason was given for the end of their contracts with the business.
The Willigers had sold their controlling stake in G. Willi-Food in May 2014 to businessman Alexander Granovsky. A year later, a second businessman, Gregory Gurtovoy, acquired the controlling stake. Gurtovoy has a seat on G. Willi-Food's board. In February, Gurtovoy was detained for interrogation by the Israeli Securities Authority for three days, after which,he was placed under house arrest for a period of two weeks, which has since ended). He was held on suspicion of the crimes of fraudulent acquisitions under aggravating circumstances, falsifying corporate documents, fraud, breach of fiduciary duty in a corporation, money laundering, as well as misleading reporting.
The ISA also spoke to other G. Willi-Food executives. It was investigating an investment of around US$2.25m made during January in the form of bonds of a European company, which allegedly served as a collateral to a loan obtained by the controlling shareholder or another individual, and which was unrelated to the company's operations. G. Willi-Food said the investment was carried out by BHWFI Ltd., a wholly owned subsidiary of the company. BHWFI agreed to pay 300 bonds with a nominal value of US$10,000 each
G. Willi-Food said yesterday to its best knowledge and based on documents in its possession and inquiries it made, including requests to all officers and authorised signatories of BHWFI, no pledge or undertaking was given in connection with the bonds.
However, the issuer alleged BHWFI undertook to invest in the bonds in three installments for a total amount $5m and that a balance of US$ 2.75 million for the bonds had not yet been paid. G. Willi-Food said BHWFI has claims regarding the reliability of the issuer's claims. BHWFI has requested several times, through a law firm in the Czech Republic, for legal documentation for the claims but G. Willi-Food no "adequate" information had been received.
G. Willi-Food said: "To the company's best knowledge, based on documents in its possession and inquiries it made, subject to certain restrictions imposed by the ISA, including requests to all of the officers and authorised signatories of BHWFI, the company did not grant issuer any undertaking to purchase additional bonds beyond the undertaken amount in accordance with the subscription forms, namely 300 bonds with a nominal value of $10,000 each."
On 30 June the issuer paid the first interest on account of the bond purchased by BHWFI, G. Willi-Food said.
The company's results for the second quarter of 2015 were also dampened by a NIS1.7m write-off, linked to its estimated exposure to the debts of Mega Retail Ltd. and Eden Briut Teva Market Ltd. during the period.
Iram Graiver, the president of G. Willi-Food, said: "We are very pleased to report another strong quarter with our new management team. Our financial results have significantly improved, which resulted from our continued reduced expenses while continuing to gain traction with new customers and growing product sales to existing customers as a direct result of our new strategy to organically grow our customer base and product line and improving our commercial relations with our suppliers. Moving forward, we intend to continue to leverage market demand in order to maximise our revenues and expand margins. We intend to reinvest in the development of the company in order to maximise profitability and increase long-term value for our shareholders."