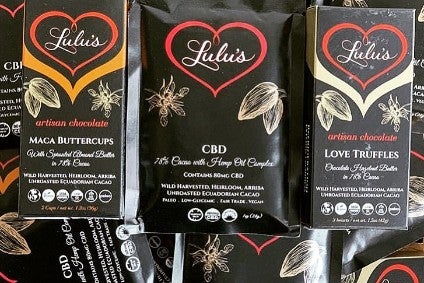 Gabriella's Kitchen, a Canada-based manufacturer of cannabis and hemp-infused food products, has agreed to acquire Lulu's Chocolates.
Toronto-listed Gabriella's Kitchen (GABY) said it has entered into a "letter agreement" with Louise Sharpe (Lulu) to purchase US-based Lulu's Chocolates and its wholly-owned subsidiary Lulu's Medicinals for US$1m payable via its own common shares.
Lulu's makes certified-organic dark chocolate using cacao sourced from Ecuador and sweetened with low glycemic coconut sugar. The products are vegan, and free from gluten and soy. The company also produces CBD- and THC-infused chocolates.
Margot Micallef, the founder and chief executive of Ontario-based GABY, said in a statement today (16 May): "Lulu and her husband Zirque Bonner have built an impressive company which, like GABY, has a dual channel sales strategy, selling traditional chocolates and CBD-infused chocolates into the mainstream grocery channel and THC-infused chocolates into the cannabis licensed or regulated channel. Lulu and Zirque share similar values to those which guide GABY, namely, a desire to empower consumers to take control over the quality of their health and in so doing to change the world for the better."
The purchase is still subject to certain approvals. "The negotiation and execution of a mutually agreeable definitive acquisition agreement and related documents and the satisfaction or waiver of any conditions precedent to the consummation of the transaction (including the receipt of any requisite regulatory and third-party approvals)," the statement read.
Once approved, Sharpe will become the vice president of development for GABY's edibles and confectionery division to Jamie Fay, the latter's president and chief operating officer.
Sharpe, who is president of Lulu's, added: "My husband Zirque and I have always known that alone we could only take Lulu's so far. We knew we needed the consumer-packaged goods experience that a company like GABY offers, as well as its access to capital and its deep experience in product innovation, growing brands and building consumer awareness to really launch Lulu's into the stratosphere and make it a household name."
Last October, GABY acquired Sonoma Pacific of the US, an independently-owned cannabis distribution and marketing company. And it also snapped up cannabis extractor business The Oil Plant.