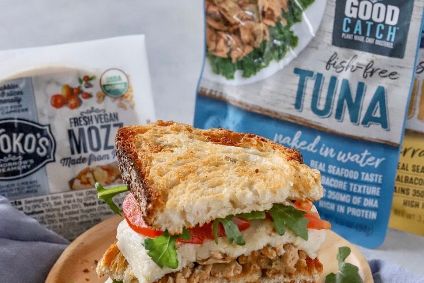 Gathered Foods, the New York-based alternative seafood business, has taken its Good Catch brand into two new European markets.
It has secured retailer listings in Spain and the Netherlands, bringing its presence in Europe to three markets, including the UK, where it rolled out the brand in January with supermarket Tesco.
The company said in a statement the "timing is ideal" to expand its international footprint, with the plant-based market in Europe expected to be worth EUR7.5bn (US$9bn) by 2025. Gathered Foods launched the Good Catch brand in Canada in October as it expanded outside of the US.
In the Netherlands, Gathered Foods has won listings with Albert Heijn, the largest supermarket chain in the country, as well as Jumbo, the Co-op and unnamed others. In Spain, Good Catch will be available in retail chain Sanchez Romero.
Gathered Foods' CEO Christine Mei said: "As we continue to grow our brand and expand our distribution footprint internationally, we're incredibly proud to establish this strong retail base across Europe. Following our successful partnership with Tesco and our recent launch into Canada with Loblaws, broadening our availability in Europe was the next natural progression."
Foodservice customers are also on the radar for next year, along with other new markets in Europe.
Gathered Foods said it is working with distributors Green Pro International and Zandbergen World's Finest Meats in the Netherlands, and PHW Gruppe in Germany to "increase product availability across many retail and foodservice channels throughout Europe".
Earlier in the year, the company secured US$36.8m in a Series B financing round, which included a contribution from US food giant General Mills, and helped fund its first facility in Heath, Ohio.
The Good Catch brand features plant-based tuna and frozen appetisers such as crab cakes, Thai-style fish cakes, and fish burgers. The base ingredients used are a blend of six legumes – peas, chickpeas, lentils, soy, fava beans and navy beans.