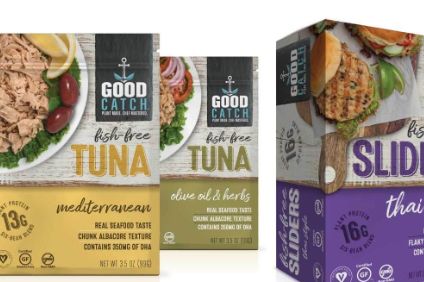 Gathered Foods, the New York-based owner of the Good Catch brand of alternative seafood, has opened a new production facility in the US state of Ohio.
Located in the city of Heath, the 42,500 sq m plant is fully dedicated to making the Good Catch plant-based products. Construction began in 2018 and the facility now employs 52 people, with plans to increase that count to 80 once the site reaches full capacity by the end of the year.
Early this year, Gathered Foods secured US$36.8m in a Series B funding round, which included food manufacturers General Mills and Maple Leaf Foods, along with a clutch of private-equity investors. The company, which makes alternative seafood products using chickpeas, lentils and fava beans, recently launched plant-based crab cakes, Thai-style fish cakes, and fish burgers in retailers across the East Coast.
It has also expanded internationally, with a launch in the Tesco supermarket chain in the UK.
Christine Mei, who was appointed as the new chief executive in July to replace co-founder Chris Kerr , said: "We are incredibly proud to establish a strong manufacturing footprint in the US as we grow our product portfolio. With Good Catch's rapid expansion and the launch of our new line of frozen plant-based entrées and appetisers, having our own production facility enables us to optimise productivity and efficiency."
Back in March, Gathered Foods joined a joint venture partnership with US seafood group Bumble Bee Foods, a deal the latter described as the "first and only" major seafood company to partner with a plant-based seafood brand. It has also attracted investment from celebrities Woody Harrelson, Shailene Woodley, Paris Hilton and Lance Bass.