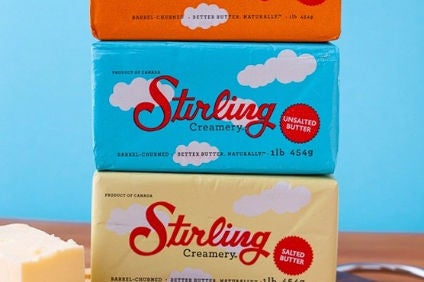 Gay Lea Foods, the Canada-based dairy cooperative, expects to see its sales and profitability improve in 2017 after "record" numbers last year.
Without providing specific forecasts, The company said it expects its top and bottom lines will grow this year as it plans to expand its food and ingredients arms, as well as invest in "innovative and industry-leading products".
In 2016, Gay Lea Foods generated sales of CAD715m, up from CAD664.1m in 2015, a spokesperson said. Profits stood at CAD30.2m, compared to CAD25.7m a year earlier. The spokesperson did not specify which profit metric had been provided.
During 2016, Gay Lea Foods acquired butter maker Stirling Creamery, set up a joint venture with Canadian dairy ingredients supplier Vitalus Nutrition and buy Ontario cheese maker Black River Cheese Company. Gay Lea Foods also snapped up a minority stake in goat milk processor Mariposa Dairy.
Asked how Gay Lea Foods plans to expand its food and ingredients arms, a spokesperson pointed to plans to invest CAD140m over four years to set up a "nutraceutical-grade dairy ingredients hub" in Canada.
The first phase of the project, which starts this year, will see Gay Lea Foods build a research and development centre in Hamilton, Ontario. The first phase also includes upgrades and expansion at Gay Lea Foods' food manufacturing facilities in the Toronto area to "increase our capabilities and competitiveness, improving cost efficiencies, while working to reduce our environmental footprint", the company said in a statement.