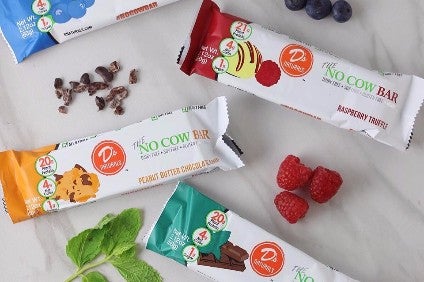 General Mills and US investment firm 2x Consumer Products Growth Partners have put a "significant" sum into D's Naturals, the plant-based protein bar maker has revealed.

The "collaboration" with 2x Partners and General Mills will help to provide the resources for D's Naturals "next stage of growth", the group suggested.
Terms of the investment, which was led by 2x Partners, were not disclosed.
D's Naturals produces low-sugar, plant-based No Cow protein bars and the low-sugar protein-infused nut butter, Fluffbutter.
The move is the latest General Mills has made in up-and-coming food companies through its in-house investment arm 301 Inc.
John Haugen, vice president and general manager of 301 Inc, said: "We are impressed with how much D has been able to accomplish for his emerging brand over the past two years. No Cow bars offer consumers a convenient way to access nutrient-rich, plant-based proteins, which is gaining more and more consumer interest. We're eager to help him take his business to the next level."
The business was founded in 2015 by then-18-year-old entrepreneur Daniel Katz – or D as he is alternatively known – after he discovered he was sensitive to dairy. Today, the business generates "nearly" US$10m in revenue and its products are distributed throughout the US in over 10,000 retail locations.
"My mission is to create low-sugar, plant-based products that fuel an active lifestyle and offer more options to people living with dietary restrictions or choosing to eat more plant-based foods," Katz said. "I look forward to working with 2x Partners and the 301 Inc team at General Mills as we create a No Cow revolution."
The No Cow bar contains 20 grams of plant-based protein and one gram of sugar. The bars are dairy free, soy free, gluten free, vegan and non-GMO.
Fluffbutter is made with ingredients like brown rice and pea proteins. It contains one gram or less of sugar per serving is free of dairy, soy, gluten and GMOs and comes in flavours ranging from vanilla maple frosting to creamy chocolate s'mores.
Andy Whitman, managing partner at 2x Partners, said: "D's Naturals is a true innovator among performance food products. We're incredibly excited to partner with D and 301 INC to help maximize success."