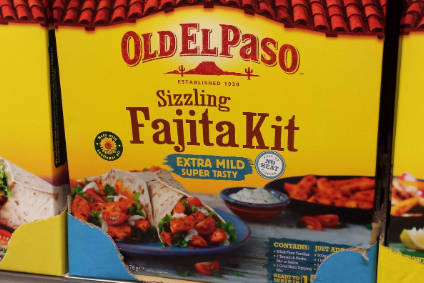 General Mills' chief executive Jeff Harmening said the US FMCG giant will focus on parts of the business offering the best opportunities for growth in a market where the food industry has become "much more dynamic" in the face of emerging challenger brands.
At the same time, Harmening reiterated the New York-listed company will seek to divest 5% of its portfolio, in areas where it lacks the resources to invest, with the "next couple of years" all about divestitures, cutting debt and continuing to pay dividends to shareholders.
Celebrating his two-year anniversary as CEO of General Mills, Harmening was addressing the Bernstein Strategic Decisions Conference in New York on Wednesday (29 May) where he fielded questions from the equity firm's consumer goods analyst Alexia Howard. He spoke about topics revolving around the market landscape, innovation, the battle against private label and M&A.
A few months ago, Harmening told attendees at the Consumer Analyst Group of New York (CAGNY) event that General Mills' strategy will centre on what he called the four "accelerator platforms" of Häagen-Dazs ice cream, natural and organic, snack bars and the Old El Paso Mexican-style food range.
And on Wednesday he stressed product innovation forms a key part of that strategy, along with looking outside of the box for potential investment opportunities, which have partly been targeted through its venture capital fund, 301 Inc., and so far include the likes of free-from brand Beyond Meat and US plant-based dairy business Kite Hill.
"You really need to look around the outside of what's going on externally and what's going on around you," the CEO said. "And part of the reason we formed 301 Inc. is to make sure we make investments in businesses that we think might be attractive, but also because it gives us a lens to what's happening externally."
Batting a question on the balance between M&A and divestitures, Harmening added: "We think there are some businesses where we're just not going to invest enough in order to be able to grow those businesses and our resources are going to be better focused on things we think have a better chance of growing and give us a better return for our shareholders.
"We will divest the businesses to the extent that we see a good financial return. And if we don't, I'll come back and tell you we couldn't do it, but it's not to raise cash."
However, major acquisitions are on the back burner for the time being as the Minnesota-based firm seeks to pay down debt and cut its net debt-to-EBITDA ratio to 3.5 times, from 4.2. At the recent CAGNY conference, chief financial officer Don Mulligan said "large-scale M&A" is on hold, adding: "We're continuously evaluating strategic activity and will deploy capital when we see a clear path to value creation for shareholders."
General Mills stepped outside of the food space with the purchase of the Blue Buffalo pet brand last year, its first major acquisition outside of its legacy food business, which saw the departure of the Green Giant brand in 2015.
In an update, Harmening said on Wednesday: "We'll look at acquisitions the same way we have historically, which is going to be, is there a path to growth, is there an asset we can grow and do we think we have a right to win? And that right to win is being able to lend our capabilities."
Amid challenges from disruptor brands in the food industry, which is "much more dynamic than it has been historically", along with the increased emergence of e-commerce and discount retailers, General Mills also sees opportunities, Harmening said. As consumer values have shifted, so too has General Mills in adapting its portfolio accordingly.
"Anytime you see change in an industry, there's going to be an area for opportunity," he said. "And the three-biggest changes we've seen are in the change in consumer food values, changes in the retail landscape, particularly with e-commerce and with discounters. And the third change we've seen is – it's in the structure and the focus on costs and how CPG companies have gone to market."
Back in February at CAGNY, General Mills said the Häagen-Dazs ice cream brand and its snack bar category were mid-single-digit growth areas, while natural and organic fitted the high-single digits description, with Old El Paso a low-single digit business. But its yogurt operations, namely the Greek yogurt brand Yoplait, have been struggling.
On Wednesday, Bernstein's Howard questioned how the yogurt category was progressing and asked what lessons could be learnt from the challenges within the category, with Harmening pinpointing France as its "toughest market" outside of the US because of its large dairy operations in the country.
"We had a little bit of a rough experience in yogurt for about five years having previously grown our market share", the CEO responded. "The first lesson learned is that you need to lead in innovation. That's what leaders do and we didn't do that with Greek yogurt. I don't think we saw what was going on with Greek yogurt fast enough, but I can guarantee you we do now."
He continued: "We see things a lot faster than we did before. You need to have your head on a swivel when it comes to innovation and what's going on in the world around you. And what happens within the four walls of General Mills is interesting, but there's a broad world out there and you'd better be paying attention to what's going on."
Harmening said the snack bar category is generally doing well for General Mills – with the Larabar and EPIC brands growing at a double-digit pace – although sales of Nature Valley have declined this year following growth of 8% "two years ago", while the diet brand Fiber One has "really been a trouble for us".
"Nature Valley really is about executing well and about getting back to innovation, the CEO said, adding that "we're working on fundamentally repositioning" Fiber One.
In terms of pricing with customers, Harmening said General Mills faces challenges from the onslaught of e-commerce, direct store delivery and discounters, with the US retail sector "probably as tough as it ever has been in the food sector".
"I think a lot gets made about the tensions that might exist between retail and CPG, but our retail customers are all looking for one thing, and that's growth," Harmening said. "And so they're looking for the people who can deliver solutions to them. And whether that's through your new products or through your data and analytics capabilities, what have you.
"That's why I've talked about growing share in seven of our top-ten categories. That's really important because our customers are looking for people who can help them grow."
Bernstein's Howard asked the CEO to talk about the threat from private label but Harmening pointed out that the whole industry is facing the same problems in terms of price pressures arising from higher input and labour costs, and logistics inflation. And France he said is also facing a "lot of dairy inflation" making the country a "tough place to take pricing and their economy is not on the upswing at the moment".
He continued: "As we look at pricing, I mean, context is everything. And so we certainly look at what's going on in the category around us. And when we talk about private label, we talk about them as retail brands. What's interesting is our prices have gone up over the last year about 2%. Our competitor prices have gone up and interestingly retail brand prices have also gone up."
Turning to e-commerce, Harmening said that despite its growth, a significant proportion of General Mills' cash generation will still come from outside the technology sphere. In terms of food products, e-commerce currently accounts for around 3% of the company's sales in the US, and while it is expected to continue to grow over the next five years, "I don't necessarily think it's going to get beyond 10% of our business" in that period, he noted.
"We need to make investments in e-commerce that will help us be successful," Harmening added. "But we also have to pay attention to the 90% that will not be e-commerce."