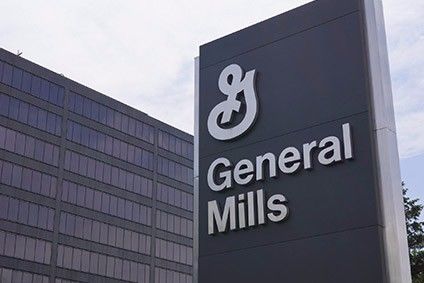 General Mills booked a mixed set of results for the first nine months of its financial year, as earnings were lifted by lower restructuring costs but sales declined on foreign exchange and the sale of its Green Giant business to B&G Foods.
The US food group revealed today (23 March) sales in the nine months to 28 February fell 5.2% to US$12.64bn. The company attributed the drop to currency exchange and the Green Giant deal, struck last autumn. On a nine-month basis, General Mills noted a one point decline from acquisitions and disposals and said constant-currency net sales dropped 1%.
However, the decline of General Mills' top line accelerated in the third quarter when revenue dropped 8%. On a constant-currency basis, third-quarter net sales declined 4%, including a three-point decrease on the back of the Green Giant transaction. Pound volumes hit constant-currency net sales by five points, with the sale of Green Giant weighing on volumes by four points.
Despite lower sales, the cereal-to-yoghurt food maker saw a further increase in profitability. General Mills said operating profit rose 31.5% to $2.18bn. The improved operating performance was supported by a decrease in cost of goods sold, SG&A expenses and restructuring and exit costs. General Mills stressed that this represented its fifth consecutive quarter of operating margin improvement. Net sales increased 27.4% to $1.32bn.
Looking to the remainder of the year, General Mills CEO Ken Powell said the company's fourth quarter would be hit by several headwinds: currency exchange, the Green Giant sale and an extra selling week in the year-ago period. General Mills therefore expects fourth-quarter sales and earnings to be lower than last year's levels.
Nevertheless, on a comparable basis, the group anticipates improving trends. Powell noted: "On a comparable basis, we expect our net sales growth to turn positive as our consumer first efforts continue to take hold. For the full year, we are confident that we will deliver the growth goals we updated in December."
When General Mills delivered its second-quarter results in December, the group forecast full-year net sales, when measured on a constant-currency basis, to fall at a "low single-digit rate". In September, the Old El Paso owner had forecast sales would "essentially match" the year before. General Mills predicted segment operating profit will "essentially match" the year earlier, down from its previous forecast for growth in the low single-digits.