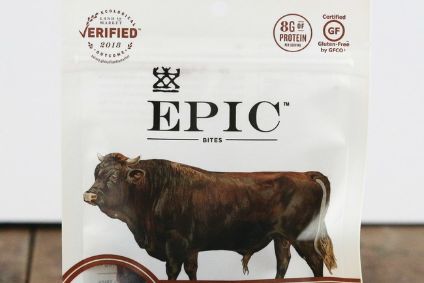 Epic Provisions, the US meat-snacks business owned by General Mills, has launched the first product in its domestic market to carry a seal concerning regenerative agriculture.
A new line of sweet-and-spicy sriracha tender beef steak bites is labelled with the Land to Market Ecological Outcome Verification mark, devised by The Savory Institute, a Colorado-based organisation that seeks to regenerate the world's grasslands.
Central to the Land to Market programme is the Ecological Outcome Verification protocol, which looks at issues such as biodiversity, soil health and ecosystem function on farms by studying water infiltration and soil carbon content. Farms that demonstrate what Epic called "positively trending outcomes" receive the verification and are entered into a supplier roster from which brands and retailers can access supply.
Epic has been working with White Oak Pastures to bring the new beef bites to market, which are available from the meat-snacks business website and "will be available nationally in the coming months".
"Everything we do at Epic Provisions is rooted in our mission to fuel a food production system that fosters a healthier, more responsible relationship with our bodies, our animals, and our planet," Epic co-founder Taylor Collins said.