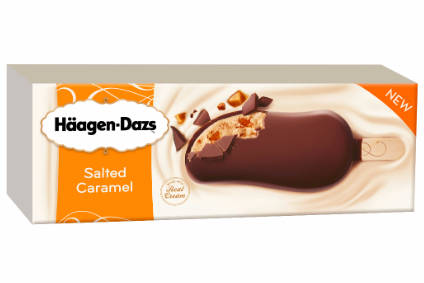 General Mills is entering the hand-held ice cream category in the UK with the launch of Häagen-Dazs stick bars.
The bars will be available in the convenience channel in single bar packs this month with an RRP of GBP2.29 (US$3.19). The line will feature three flavours: salted caramel, vanilla caramel almond and white almond.
Arjoon Bose, marketing manager for the UK and Northern Europe, said that the new range "raises the bar" when it comes to on-the-go ice cream.
"Our R&D teams have ensured this breakthrough innovation meets demanding UK shopper needs, giving consumers a luxury stickbar that offers more than just a chocolate hit on the outside. Our new game-changing technology allows us to capture the much-loved Häagen-Dazs ice cream flavour and texture that shoppers seek inside our stickbar, enveloped in a coating of our rich signature Belgian chocolate," Bose said.
Bose insisted that General Mills is offering "a unique point of difference".
Häagen-Dazs' stick bars were launched in France last year. The business is already worth EUR10.4m (US$11.5m), General Mills revealed.