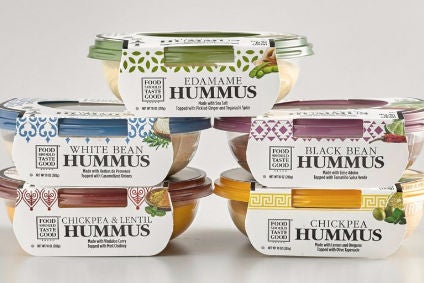 General Mills is testing its new hummus lines sold under its Food Should Taste Good brand at mainstream retailers in the US after launching the products at natural and organic stores at the start of the year.
"We are testing in a small number of mainstream retail stores beginning this month," Anne Thompson, marketing manager for snacks innovation at General Mills, told just-food. "Once we review the performance of this test in addition to the ongoing natural channel performance we will make a determination on how and when to expand further. The Food Should Taste Good brand was born and raised in natural and organic retailers – we knew seeding the hummus there first would help us learn with our most loyal customers."
The launch of the Food Should Taste Good hummus in January was General Mills' latest attempt in the category. "We have tested or licensed hummus products in the past that are no longer available," Thompson said.
Hummus is a new category for Food Should Taste Good, which General Mills acquired in 2012. The company, founded in 2006, started life in the snacks aisle and, as well as hummus, its range includes tortilla chips, rice crackers and snack bars.