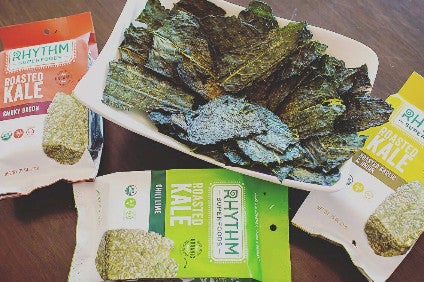 General Mills has ploughed more money into US kale snacks maker Rhythm Superfoods, a year after first investing in the fledgling business.
Rhythm Superfoods has closed another round of financing, with General Mills the lead investor through its in-house fund 301 Inc. The Austin-based snacks maker was the first company General Mills backed through 301 Inc after setting up the venture capital-style arm in 2015.
John Haugen, vice president and general manager of 301 Inc., "Rhythm Superfoods continues to be an innovative company in the better-for-you snack category … and we're excited to continue to help them amplify their existing efforts and differentiate their place in the market as a leader in the plant-based snack category."
Other investors in the US$6m round of financing include Blueberry Ventures and the CircleUp Growth Fund. CircleUp is an investment marketplace for consumer and retail companies and had already backed Rhythm Superfoods in a previous round.
Rhythm Superfoods said since 301 Inc and CircleUp had first invested in the business it had been able to expand the distribution of its products and add to its range.
Scott Jensen, the CEO of Rhythm Superfoods, said: "With the expanded support and resources of General Mills behind us we have confidence that we will continue to be the leader in developing innovative plant-based superfood snacks for our growing consumer base."