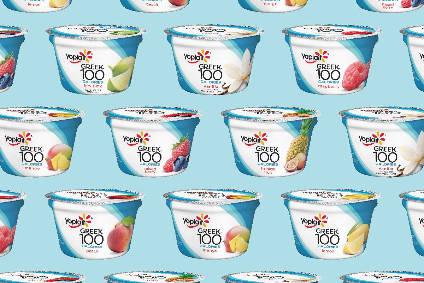 General Mills has cut its full-year sales and earnings outlook for the 12 months to end-May.
The Yoplait owner said it now expects organic sales to drop by around 4% in the period. The company noted that this represents the low end of its previous guidance, which was for a 3-4% fall.
The company said that the move was driven by the recent sales performance of its US yogurt and soup businesses. General Mills sells soup and yogurt products under the Progresso and Yoplait brands in the US. The group attributed the decrease to the "widening gap" between its level of promotional activity and that of its competitors in the US.
Constant currency segment operating profit is expected to range from down 1% to up 1%, reflecting lower sales and increased fourth-quarter brand investment. Previously, General Mills was targeting segment operating profit growth of 2-4%.
General Mills did, however, stress that it is making progress on strengthening its margins. The company said it expects to deliver an adjusted operating profit margin of "at least" 18% in fiscal 2017, which represents an increase of at least 120 basis points over fiscal 2016 levels.
The company remains on track to deliver US$380m in cost-of-goods savings and $500m in savings from its incremental efficiency and cost savings initiatives, including global supply chain and organisational restructuring as well as the implementation of zero-based budgeting.
Adjusted EPS is expected to increase 5-7% in constant currency. This is down from previous guidance for EPS growth of 6-8%.