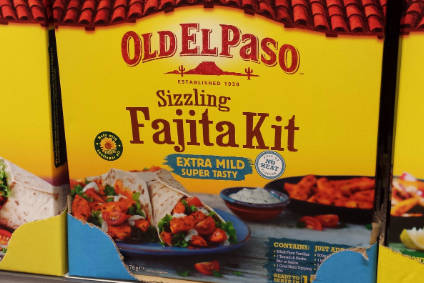 General Mills today (21 March) cut its forecast for a key profit metric, sending shares in the US food group tumbling in pre-market trading in New York.
The owner of brands including Old El Paso and Yoplait said it now expects its total segment operating profit to fall by 5-6% on a constant-currency basis, compared to an earlier forecast of flat to down 1%.
General Mills pointed to "higher-than-expected supply chain costs, including freight and logistics, commodities, and other operational costs".
As a consequence, the company expects its full-year, constant-currency adjusted diluted earnings per share to land in a range of being flat year-on-year to up 1% – versus its previous forecast of a rise of 3-4%.
General Mills still sees its net sales, on an organic basis, being "in line" with last year.
Chairman and CEO Jeff Harmening said: "We are moving urgently to address this increasingly dynamic cost inflation environment. We've taken actions to improve profitability in the near term, and we've launched initiatives that will reduce our long-term cost structure. While these actions will only partially offset the cost headwinds in fiscal 2018, we are confident they will strengthen our bottom-line results beginning in fiscal 2019."
The revised forecasts came alongside the publication of General Mills' third-quarter and nine-month financial results.
For the nine months to 25 February, General Mills' net sales inched up 0.3% to US$11.85bn. Third-quarter net sales were up 2.3% at $3.88bn.
On an organic basis, net sales fell 1% over the first nine months of General Mills' financial year but were up 1% in the third quarter.
Nine-month operating profit was down 0.5% at $1.95bn. During the company's third quarter, its operating profit rose 9.3% to $592.7m.
Nine-month net earnings were up 42.3% at $1.78bn; they more than doubled to $941.4m in the third quarter.
Shares in General Mills were down 9.77% at US$45.05 in pre-market trading at the time of writing.