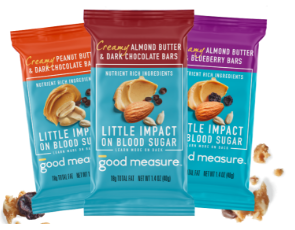 US food company General Mills has launched a snacks range that is said to have little impact on blood sugar levels.
Good Measure is targeted at people with pre-diabetes or diabetes who have to be careful to avoid blood sugar spikes. General Mills describes such people as an "underserved group of consumers".
Jonathan Scearcy, co-founder of the brand, said: "Nearly one in six adults in the US have already been diagnosed with pre-diabetes or diabetes and the US Centers for Disease Control and Prevention estimates one in two adults actually have prediabetes or diabetes but most don't know it yet.
"We have the potential to positively impact the lives of millions of people out there who are struggling to find good food options."
Brand co-founder Ryan Backer added: "The problem is oftentimes there are lower-carb, lower-sugar solutions on the marketplace that look like they may be a great solution, but they aren't. But we also didn't want there to be a taste trade off. We wanted people to still have a positive relationship with food. And still we wanted food to bring them joy."
Good Measure has been launched with two products – nut butter bars and almond crisps. They are described as "snacks that are held together by ingredients that won't spike blood sugar".
General Mills has not said what those ingredients are but said it has filed for patents on both product lines.