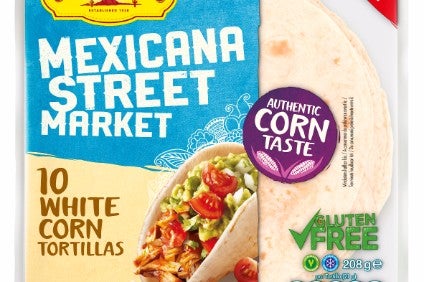 General Mills is introducing white corn tortillas under its Old El Paso brand in the UK to cater to allergy-conscious consumers amid a growing market for Mexican food.
The tortillas use corn as the key ingredient rather than wheat, and have already been launched in Sainsbury's and Asda supermarkets in 220 gram packs of ten, according to a statement.
Lindsay Hill, marketing manager for Old El Paso at General Mills' UK arm, said: "In trials, they've already proved a hit with shoppers who are looking for convenient meal solutions that all the family will enjoy. They will also appeal to the 52% of UK households now buying into the free-from category, which is not only shopped by people with allergies, but also 'gluten avoiders."'
Old El Paso also supplies complete Mexican meal kits, along with taco shells, seasonings, cooking sauces and tortilla chips.
"Old El Paso's white corn tortillas offer a more authentic Mexican product than many currently on the market. All-importantly, the product also tastes great as well as providing a versatile choice for a variety of lighter meals," Hill added.