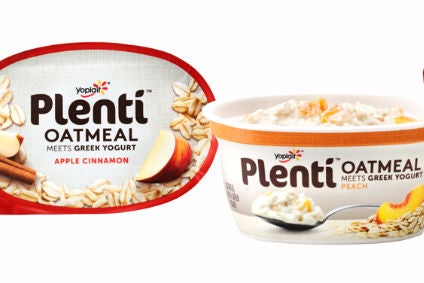 General Mills has added an oatmeal-based variant to its Plenti yoghurt line in the US.
Plenti Oatmeal Meets Greek Yogurt targets consumers looking for a "complete breakfast".
"Coming off of the successful launch of the Plenti brand last fall, we are thrilled to expand its offering with another innovative product, Plenti Oatmeal Meets Greek Yogurt," said Alicia Beerman, marketing manager for Plenti yoghurt. "Plenti Oatmeal is unique, giving Americans the goodness of both oatmeal and Greek yogurt without any prep – enjoyed straight from the fridge – just grab a spoon," she added.
The product, a combination of oatmeal and Greek yoghurt contains 16g of whole grain and General Mills claims Plenti Oatmeal "helps provide long-lasting energy".
The range is available in retailers across the nation in six variants: apple cinnamon, maple brown sugar, peach, blueberry, strawberry and vanilla.
Plenti Oatmeal Meets Greek Yogurt has an RRP of US$1.59.