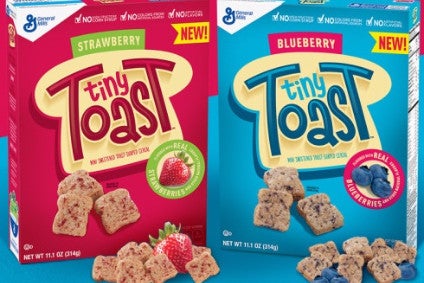 General Mills today (6 June) announced the launch of Tiny Toast, the first cereal brand it has developed for the US market for over a decade.
The packs of whole grain toast-shaped pieces of cereal will hit US stores this month, the Cheerios maker said.
Each Tiny Toast piece is covered with even pieces of strawberries or blueberries. General Mills said the product can be enjoyed as a traditional breakfast cereal by the spoonful with milk or straight out of the box as a snack.
General Mills senior marketing manager Alan Cunningham said: "Consumers' tastes continue to evolve, but they remain steadfast in their search for options with wholesome, pantry-friendly ingredients. This inspired our development process, and we went where few brands in the cereal category have gone before, using real fruit."
Tiny Toast has no artificial flavours or colours, while containing no high fructose corn syrup, General Mills said.
The launch of Tiny Toast comes with US cereal manufacturers struggling for growth amid changes to consumer habits at breakfast and demand for alternative options like yoghurt.
In the 12 months to the end of May 2015, General Mills said it gained 30 basis points of market share in the cereal sector but conceded it did not see its sales increase over the period.
Speaking at the time the results were released last July, General Mills chairman and CEO Ken Powell said growing the company's cereal business was one of "four clear priorities" for the group's US retail operations in the 2015/2016 financial year.
In the first nine months of General Mills' 2015/2016 financial year, cereal sales from the company's US retail business were flat year-on-year after a 2% fall in the group's third quarter.
General Mills is set to publish its annual results on 29 June.