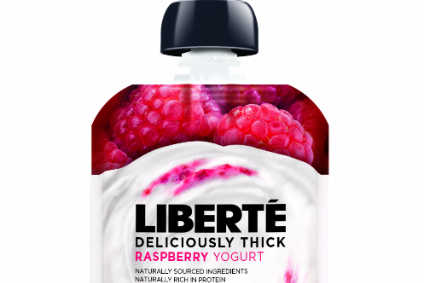 General Mills is launching Yoplait Liberté yogurt pouches in the UK in a bid to appeal to the adult snacking market.
Liberté pouches will be available in 130 gram portions in blueberry and raspberry flavours. General Mills stressed the yogurt is made from "100% naturally sourced ingredients" and contains 0% fat.
The pouches are available in Tesco and Sainsbury's now with a further rollout to Spar and Nisa planned.
General Mills revealed it will invest GBP3m in above the line support for the Liberté brand over the next six months as it launches what it claims to be a "category first" in the pouch format. Supporting the launch, the company is planning a "massive" consumer sampling campaign targeting 250,000 samples.
"The pouches are aimed at health conscious, active consumers between 20-40 years who are looking for a healthy, convenient, portable snack while on the go," General Mills said.
The company suggested that on-the-go yogurt consumption represents a GBP30m category opportunity to drive incremental usage.

Jo Abram, Marketing Manager at General Mills, said: "We are excited to launch this market-first product into the UK market. The Liberté pouches are the perfect solution for the busy on-the-go consumers of today, offering a convenient, portable, healthy and protein-rich snack. We look forward to initial consumer feedback on this innovative new packaging design."