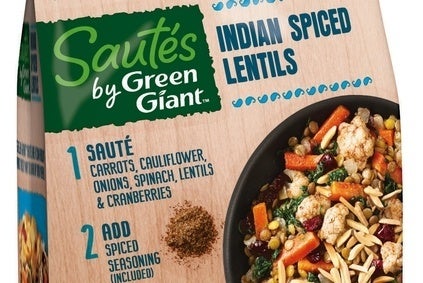 General Mills is to add to its Green Giant portfolio in the US, part of the company's bid to revitalise sales of a brand it is rumoured to be looking to sell.
The group is set to launch a Sauté's line – a range of frozen vegetables that come with packets of dry seasonings and garnishes – in the coming weeks.
The new range contains five products, including a bacon brussels sprouts line, an Indian spiced lentils offering and a chipotle harvest bag.
Meanwhile, the company has been testing a set of roasted vegetable products in selected retailers in the south east of the US.
Earlier this month, it was reported General Mills is looking to sell Green Giant, which sells frozen and canned vegetables worldwide.
Reuters claimed General Mills is working with Rothschild on a possible sale.
General Mills said it did not comment on what it called "rumours or speculation". However, Reuters, citing sources, said a sale is expected this summer.
Click here for our analysis of why General Mills could be looking to offload the business.