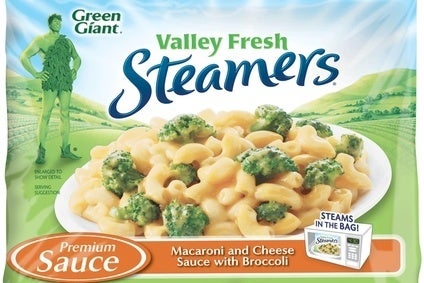 General Mills has declined to comment on a report that it is looking into the possible sale of its Green Giant frozen and canned vegetable brand.
According to a Reuters report, which cited an unnamed source, General Mills is working with investment bank Rothschild on the sale. The disposal is expected to take place later this summer, Reuters suggested.
General Mills has struggled to improve the US performance of its brands in declining categories such as frozen food.
Frozen and canned sales in the US have declined as a result of consumers seeking out fresh alternatives, which are perceived as healthier and more natural. General Mills' message that frozen is healthier because it "locks in the nutrients" has for the most part failed to strike a chord with US consumers. According to research firm, Packaged Facts, 2013 frozen sales in the market declined 1% to US$22bn.
Details of Green Giant's revenue trends were unavailable. A spokesperson for General Mills declined to comment further. "As standing practice, we don't comment on rumours or speculation," the spokesperson said.