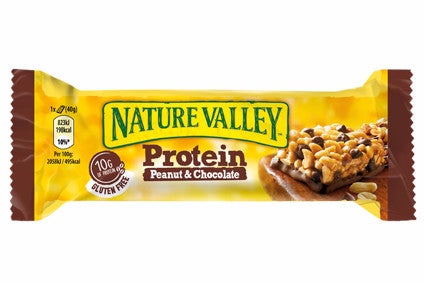 US food giant General Mills is to change the labels on its Nature Valley granola bars following a lawsuit from consumer groups.
It has agreed to stop calling the oats in its bars 100% natural to settle a lawsuit by three consumer groups that said the bars contained small amounts of the pesticide known as Roundup.
A statement issued by the Organic Consumers Association, one of the organisations behind the lawsuit, said: "Three non-profit groups today jointly announced that they have resolved a consumer-protection action filed b ythe groups against General Mills on August 24, 2016, concerning General Mills' labelling of its Nature Valley Granola Bars as "Made with 100% Natural Whole Grain Oats."
It said the parties were able to resolve the claims without going to trial and that packaging for General Mills Nature Valley Granola bars will no longer bear the term "100% Natural Whole Grain Oats".
The groups claimed independent tests showed that the granola bars contained 0.45 parts per million of glyphosate, and that oats were the "most likely" source of the pesticide.
While this was below the maximum 30 parts per million that the US Environmental Protection Agency recommends, the groups said General Mills' label was deceptive and that "no reasonable consumer" would expect the bars to contain anything unnatural.
In a statement sent to just-food, General Mills spokesman Mike Siemienas said: "Nature Valley is confident in the accuracy of its label. We made the decision to settle this case to avoid the cost and distraction of litigation and to focus our efforts on what is most important to our consumers, making great-tasting Nature Valley products with 100 percent whole grain oats."
In October last year Unilever's Ben & Jerry's ice cream brand said it will no longer use ingredients based on glyphosate-dried crops after traces of the herbicide – typically used as weedkiller – were found in its ice cream.