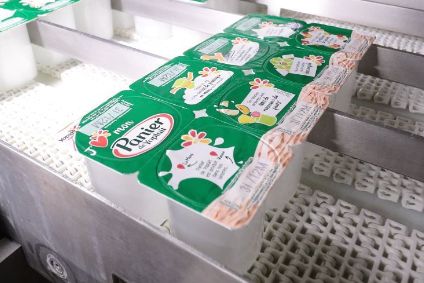 US food major General Mills is to sell its 51% controlling interest in the European operations of yogurt business Yoplait to Sodiaal, the French dairy cooperative, in exchange for full ownership of the Canadian Yoplait business.
A reduced royalty rate for General Mills' use of the Yoplait and Liberté brands in the US and Canada is also part of the deal under a "memorandum of understanding" announced today (23 March).
Confirming earlier speculation a deal was on the cards, General Mills said the transaction is part of moves to "reshape" its portfolio.
Sodiaal said the deal fits moves to develop what it calls its "value-added" businesses.
Under the terms of the deal, Sodiaal is to run yogurt businesses in France, the UK and "certain other markets". Sodiaal described Yoplait as "the number three brand on the French yoghurts and dairy desserts market". The co-op did not provide figures on Yoplait's market share but said it had increased "for five quarters".
General Mills would acquire Sodiaal's 49% ownership interest in Yoplait Canada Holding Co., making Yoplait's operations in Canada, which generated $290m in net sales in the US group's 2020 year, a wholly-owned subsidiary of the business.
The deal will see General Mills own operations in the US and Canada that generated a combined $1.4bn in net sales in the same year. The company is to distribute Yoplait and Liberté branded products in the two markets on a royalty-free basis.
Jeff Harmening, General Mills' chairman and CEO, said: "With today's announcement, we're taking another step toward advancing our 'accelerate' strategy and further reshaping our portfolio to drive profitable growth for the long term.
"This transaction improves our growth profile, enhances our margins, and creates value for our shareholders. Additionally, it increases our focus on the brand platforms that have the greatest growth potential."
General Mills said in Europe and Australia it will increase its focus on its "advantaged global platforms" including Mexican food, "super-premium" ice cream, and snack bars.
The US company acquired 51% of Yoplait in 2011 in a multi-faceted deal. The Old El Paso meals and Nature Valley snack bars owner owned 51% of Yoplait SAS and 50% of a second entity – Yoplait Marques SNC – that owned the Yoplait and associated trademarks. The marks were licensed to Yoplait SAS.
The other shareholder in both entities was Sodiaal, which supplies milk to Yoplait SAS.
Sodiaal CEO Jorge Boucas said: "The takeover of Yoplait would fit perfectly into Sodiaal's value-creation strategy, implemented since 2017. This transaction would allow us to expand our portfolio of consumer brands and to continue with the teams of Yoplait to develop the market share of this iconic brand."