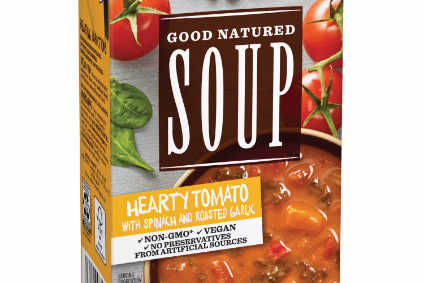 General Mills has added to its under-pressure soup range in the US with the launch of Good Natured, which the company says will help boost vegetable consumption among shoppers.
"Everyone is trying to eat more veggies throughout the day and are making efforts to live a healthy lifestyle. It's recommended that we should consume three to five servings of vegetables per day, but that's not always easy. To overcome that, we've made getting more vegetables in the diet convenient, and introduced Good Natured soups, new from Progresso, in three hearty vegetable soup flavours," a spokesperson said.
.@GeneralMills goes incognito with new Good Natured Soup line. Non-GMO soup downplays link to Progresso. pic.twitter.com/at5kWJ88VT

— Tom Vierhile (@TomVierhile) September 19, 2016
The three soups – Hearty Corn and Chipotle Chowder; Hearty Tomato with Spinach and Roasted Garlic; and Hearty Lentil with Garden Vegetables – offer three-quarter cups of vegetables per serving, General Mills said. They are also vegan, with General Mills using bean powder and vegetable purees in the soups instead of cream.
General Mills is selling the soups in 17-ounce Tetrapak cartons. The soups have a suggested retail price of US$3.29.
The US food giant yesterday reported the financial results for the first quarter of its fiscal year. In the period to 28 August, net sales fell 7% to $3.9bn. Organic sales were down 4% with growth in the natural segment and emerging markets more than offset by lower sales of General Mills' "foundation" business – which consists largely of refrigerated dough, soup and baking mixes sold through the US retail channel – and of yogurt in the US.
General Mills reported "double-digit net sales declines" for Progresso soup, driven, it said, "by lower customer inventory levels". Alongside the launch of Good Natured, General Mills is looking to make changes to its core Progresso line. Chairman and CEO Ken Powell yesterday pointed to a change to ingredients. "We're transitioning our entire line of soup to antibiotic-free chicken, a first for a mainstream soup brand. More than 50% of Progresso soups contain chicken, so this is a significant initiative for the brand," he said.
Jeff Harmening, General Mills' president, said the business has also sought to "improve the profitability and viability" of its soup business through the recent decision to close a plant in Vineland in New Jersey.