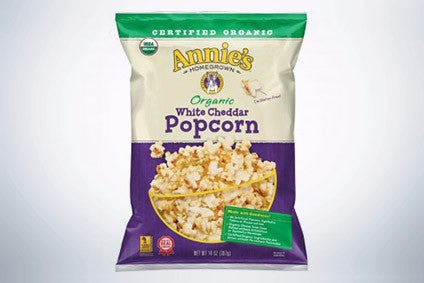 US-based food group General Mills has unveiled a swathe of global product launches as it aims to capitalise on what it believes are key snacking trends.
The company today (10 January) detailed 21 products it plans to launch in global markets in the coming months.
In particular, General Mills said it hopes to combine growing global appetite for snack items with other "trends from around the world".
"Snacking presents a tremendous growth opportunity for General Mills," chairman and CEO said Ken Powell said. "Our products are in 97% of US consumer households and about one-third of our global sales are international. This gives us a great ability to listen and deliver what consumers want. And while preferences are changing faster than ever, what hasn't changed is the desire for food that tastes great, is convenient, and affordable. Our scale allows us to easily transfer great ideas into great products around the world."
Jeanine Bassett, vice president of global consumer insights at General Mills, said consumers attitudes to weight management have evolved. "Controlling weight used to be about counting calories, now it's about calories that count," she explained. "Today it's more about satiety, which is why you see increased interest in protein."
There is also growing interest in free-from products and food made from "simple, recognisable ingredients", General Mills said. The company, which owns the Annie's brand, also flagged growing interest in organic options and transparency in how companies source ingredients.
And, while people are interested in "wholesome snacks", there is still room for "indulgent treats", the company continued. "Oftentimes consumers talk about eating healthy as a presentation of their best selves and their aspirations, but in reality, they simply want something that tastes good," Bassett said.
In order to meet evolving consumer trends, General Mills' latest NPD drive includes::
Very Berry Cheerios, US – Cheerios cereal combined with real fruit – strawberry, raspberry and blueberry. No colours from artificial sources. No artificial flavours. No high fructose corn syrup.

Yoplait Custard, US – After ten years, Yoplait Custard is being reintroduced in in six flavours: vanilla, strawberry, blueberry, banana, lemon and caramel. Made from whole milk with no added artificial colours or flavours, no high fructose corn syrup, and free from rBGH/rBST growth hormones.

Nature Valley Granola Cups, US – Combine flavours like peanut butter chocolate and almond butter and including "wholesome" ingredients like oats. No artificial colours, sweeteners or flavours.

Fiber One Layered Chewy Bars, US – Layers of crisped grains, caramel, almond and chocolate. Available in double chocolate almond and salted caramel & dark chocolate flavours. Free from artificial colours, flavours or sweeteners.

Annie's Popcorn, US – Available in organic butter & sea salt and organic white cheddar varieties. Free from artificial flavours, synthetic colours and preservatives. Gluten free.

Häagen-Dazs fruit and flowers ice cream, China – Flavours including rose, raspberry & lychee, and elderflower & blackcurrant.

Larabar Fruit and Greens bar, US- Each bar contains kale or spinach, fruits and nuts. Available in strawberry spinach cashew; pineapple kale cashew and mango spinach cashew varieties.

Old El Paso Stand 'N' Stuff Minis, Europe, Australia – Known as mini taco boats in the US, Old El Paso mini taco shells are "easy-to-hold" shells "perfect for kids and appetisers".

Wanchai Ferry Kids, China – Smaller sized dumplings in colourful wrappers targeting children and containing ingredients like pork, salmon and shrimp.

Yoplait Dippers, US – Non-fat Yoplait Greek yogurt with crunchy snacks. Available in six combinations: chocolate raspberry chunk yogurt with chocolate pretzels, caramelised banana yogurt with chocolate pretzels, vanilla bean yogurt with honey oat bites, toasted coconut yogurt with honey oat bites, chipotle ranch yogurt with tortilla chips, and coffee chocolate chunk yogurt with cinnamon crisps. Free from artificial colours, flavours and high fructose corn syrup.