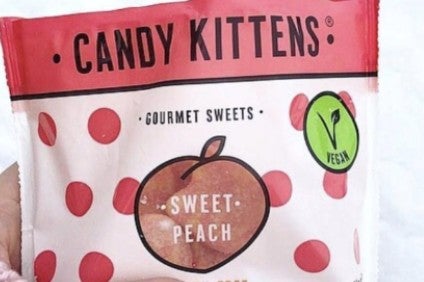 German confectioner Katjes Group has taken a stake in UK sweets business Candy Kittens.
The size of the investment has not been disclosed but Candy Kittens said it was a "significant minority" stake.
The financial sum involved has not been revealed.
London-based Candy Kittens was founded in 2012 by Jamie Laing – the McVitie's heir and reality TV star – and Ed Williams. The business has positioned itself as a British gourmet sweets brand specialising in products for those seeking healthier confectionery options, including vegan.
The company's first confectionery range was launched in Selfridges in 2014, before branching out into some of the UK's largest retailers, including Sainsbury's and Tesco. Candy Kittens sweets are now available in more than 5,000 British stores.
In a video released to announce the deal, Williams said: "We don't behave like a sweet brand. We behave more like a fashion company and, as a result of that, we are constantly innovating and pushing the boundaries and trying to really take on the big guys in the category and challenge them at absolutely everything we can.
"For a small, British confectionery business that was started with a couple of young guys that had an idea, partnering with a company like Katjes allows us to develop and build our product quality, whilst never losing that challenger brand mentality that's become so important to us."
Bastian Fassin, managing shareholder at Katjes Fassin, the part of the Katjes Group through which the German confectioner made the investment, said: "At Candy Kittens, there is a team that has done everything different to expectations. That's what you see in the packaging – it's a very premium look – [in] the shape of the product, the single flavour logic. There are a lot of things where if you asked somebody from the industry they would say to do it totally differently but, because of this specific approach, it is so special. Candy Kittens is a real, British brand and I think the flavour profile therefore is also very British, which makes it very special because if you see the competition on the market it is very often European or German."
He added: "It's a good combination because we both strive for the highest quality in the category. Candy Kittens brings all the Britishness to the project and we bring all this German perfectionism to product quality and production to it. Both of us together is developing a plan that is very fruitful I hope."
Katjes is one of the three largest companies in the German confectionery market. It does not use animal gelatine in any of its Katjes-branded products, making the entire range suitable for vegetarians.
In addition to the main Katjes brand, the company owns brands such as Ahoj-Brause, Sallos and Vicks cough drops.