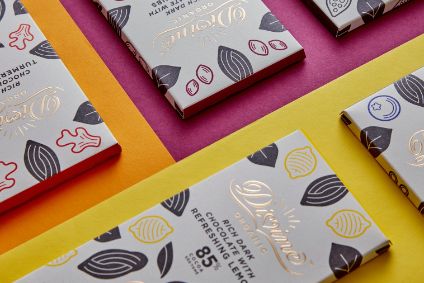 Divine Chocolate has announced a change in the control of the business, with one of its manufacturers, Germany's Ludwig Weinrich GmbH & Co., becoming its new majority shareholder.
London-based Divine, a supplier of Fairtrade chocolate products, said family-owned Weinrich is now the owner of 80% of the business. The previous majority shareholder, Kuapa Kokoo, the Ghana farmers' co-op that supplies Divine with cocoa, will retain a 20% stake in the company.
Financial terms were not disclosed. just-food has asked what Weinrich has paid for its shareholding.
In a separate announcement, Divine said CEO Sophi Tranchell was leaving the business. Tranchell, who has headed Divine since it was launched as the Day Chocolate Company in 1998, decided last November to leave the firm. She said she was "reassured to be leaving the company with our main manufacturer Weinrich having capitalised the business".
Weinrich has manufactured Divine's chocolate since 1998. The company makes all Divine's bars and couverture. Divine works with other manufacturers, for example to make seasonal products, all using couverture from the German firm.
A Divine spokesperson said Weinrich had helped grow the company's business, including setting up its US unit, Divine Chocolate Inc. Divine Chocolate brought its UK arm and its US business together in 2015.
Cord Budde, the CEO of Weinrich, said: "To be honest, Divine has changed my life. Yes, that might sound a bit impassioned, but it is true. Divine has brought me much closer to the most important part of our products, the cocoa and the farmers, and most important, made me much more sensitive regarding the needs and the livelihoods of those people who are producing this wonderful cocoa."
Tranchell added: "Weinrich's CEO Cord Budde has been, and continues to be a totally committed partner, sharing Divine's values and supporting its mission and ambitions.
"I am immensely proud of Divine, what it stands for and what it has achieved. With a great team, and investors who had the vision and patience to support us, we set out to make a real difference in the chocolate industry – a real transition towards more equitable trade that could never again be undone. I believe Divine has led and catalysed such a change."
The most recent Divine Chocolate accounts that are publicly available cover the 12 months to the end of June 2018. Turnover for that year was GBP15m (US$19.1m), up from GBP14.1m on the previous 12 months.
An increase in the cost of sales, plus a rise in admin expenses, contributed to operating profit of GBP13,000, against GBP266,000 the year before. The company made a net profit of GBP3,000, versus GBP236,000 the previous year.