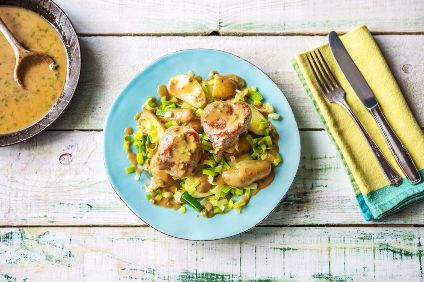 HelloFresh, the Germany-based recipe-kit firm, is to expand its operations in the UK with the launch of its first product into the country's supermarket channel.
The company is rolling out a range of meals into Sainsbury's stores. The business said the HelloFresh Go lines include "some of the most popular dishes" from its recipe archive and includes teriyaki chicken with coconut rice and bok choy, as well as pan-fried pork medallions with tarragon and potatoes.
Patrick Drake, the co-founder and head chef at HelloFresh, said: "HelloFresh Go was developed as a direct response to our customer's feedback that they would like the flexibility of being able to pick up our recipe kits on their way home or as part of their weekly shop. We started developing the HelloFresh Go concept a while ago and when we were approached by Sainsbury's we knew that this was a brilliant opportunity to reach more customers whilst cementing our position as the leading recipe kit brand in the UK."
HelloFresh, based in Berlin, was set up by listed German technology company Rocket Internet in 2011. Outside Germany and the UK, HelloFresh operates in seven other markets, including the US, Canada and Australia.
In the first nine months of 2016, HelloFresh made an adjusted EBITDA loss of EUR66.3m (US$71.8m), up from EUR51.9m a year earlier. HelloFresh's net revenue stood at EUR438.3m, compared to EUR198m in the first nine months of 2015.
Rocket Internet remains the majority shareholder in HelloFresh. In December, Rocket Internet announced an equity fundraising round for HelloFresh that reduced its stake in the recipe-kit service from 56% to 53%.
Other investors in HelloFresh include Baillie Gifford, Insight Venture Partners, Phenomen Ventures and Vorwerk Direct Selling Ventures. Earlier this month, it was reported Qatar's sovereign wealth fund had also taken a stake in HelloFresh.