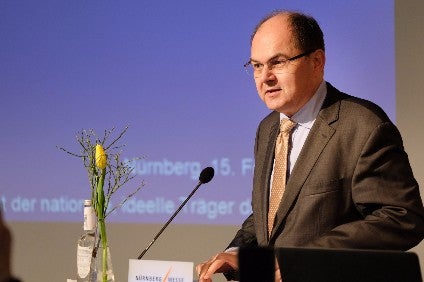 Germany has announced plans to boost federal funding in moves towards establishing organic farming on some 20% of all land designated for agricultural use across the country.
Federal food and agriculture minister Christian Schmidt told the Biofach international organic food fair in Nuremberg today (15 February) funding for the federal organic farming programme will be increased by 50% to EUR30m (US$31.7m) from 2018.
Schmidt said: "We want to facilitate the conversion of farms to organic farming in Germany. The goal of having 20% of the agricultural area managed in an ecological way is also to help our farmers take advantage of the opportunities offered by the growing organic sales market."
Schmidt said ongoing federal funding for the cultivation and processing of protein crops, such as soya, lupins, peas or clover, "will continue to be supported at a level of EUR6m annually".
Felix Prinz zu Loewenstein, the chairman of the German Federation of the Organic Food Industry, welcomed the government's announcement. He said: "The organic market has seen growth rates of between five and 10% in the last few years, thanks to more and more food retailer shelf space being occupied by organic products, a strong natural food specialist store segment and customers opting for organic products at other points of sale."
Loewenstein said nearly 1.1m hectares of land was being cultivated in Germany by around 24,700 organic farms at the end of 2015.
Loewenstein said the government's announcement was "a very important signal to all farmers… that sufficient funds will be made available to enable conventional farmers to switch to organic in the next few years".
Last month, just-food reported the most significant markets for organic products in Europe are in western and northern Europe, with Germany, France and the UK the three largest markets, with each growing solidly. In 2015, sales of organic food and drink grew 11% in Germany.