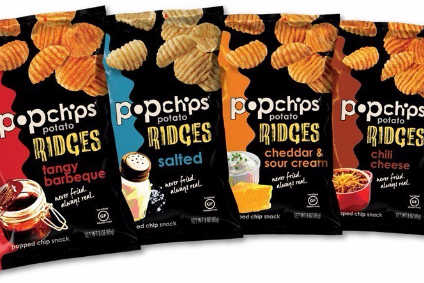 Germany's Intersnack Group has made its second acquisition in the UK snack market in as many months with the purchase of Popchips Ltd. for an undisclosed sum.
The transaction was conducted through the German snack firm's UK arm, KP Snacks, as was the deal for crisp brand Tyrrells made in May.
Since launching in the UK in 2012, Popchips has reportedly become the fastest-growing snack brand in the country, with the product also marketed in Europe. It is a subsidiary of Popchips Inc., which will continue to own and operate the brand in North America and other international markets.
Mark Thorpe, the chief executive for KP Snacks, said managing director of Popchips Europe, Will Bowler, has "done a great job growing the brand and its distribution over the last few years".
Thorpe added: "Popchips is a fantastic addition to the KP business and, coming hot on the heels of our recent Tyrrells acquisition, we believe it significantly strengthens our permissible and better-for-you propositions, enabling us to offer customers and consumers snacks for every occasion.
"We will now be working with Will, his team and the co-manufacturers of the product to ensure the successful integration into our business."
Bowler said there are plans to further grow the brand in Europe
"We are really excited to be joining the KP Snacks portfolio and the Intersnack Group," he said. "With their deep expertise and support, KP Snacks will help us build on our strong momentum as we expand the Popchips brand further in the UK and throughout Europe."
Intersnack has again expanded its presence in the UK snack market with its latest acquisition, having purchased UK popcorn brand Butterkist from local group Tangerine Confectionery last year.