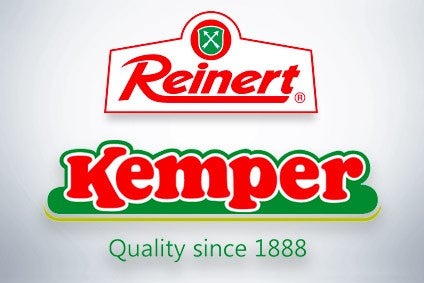 Two Germany-based sausage makers, Kemper and Reinert, plan to merge to create a new company – The Family Butchers.
The Kühnl and Reinert families will own a 50:50 share of the new entity, which will be managed by Dr Wolfgang Kühnl and Hans-Ewald Reinert, according to a joint statement. The merger creates Germany's second-largest meat processing company with a combined annual turnover of more than EUR700m (US$767.1m), supplying branded and private label products.
Antitrust authorities need to sign-off on the transaction, which is expected to be completed early in the new year. The Family Butchers will then operate nine factories employing around 2,600 people.
Both Kemper and Reinert are based in the Nortup area in Lower Saxony. Kemper is a private-label producer while its counterpart is a branded manufacturer.
"The new company aims to play an outstanding role in the industry as a cost and innovation leader and sees itself as a driving force in the process of change in the meat and sausage industry," the statement read.