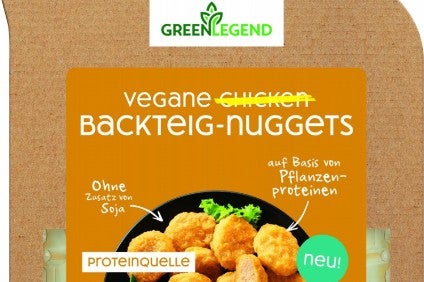 German poultry business PHW-Gruppe has entered into the meat-free world in its own right with the launch of a vegan brand having previously only ventured into the category through investments.
The Green Legend line has been rolled out, featuring five vegan sausage products, along with six meat and fish alternatives targeted at flexitarians, such a 'meatballs, 'fish' nuggets and schnitzel.
"Our new Green Legend products create a taste experience that is very close to the original," PHW said in a statement. "All correspond to the latest generation of plant-based products."
In 2018, PHW was part of an investment consortium in US-based plant-based seafood firm Good Catch, and the following year it joined a funding round in Israel's Redefine Meats, a start-up engaged in the development of 3D 'meat' printing technology.
More recently, PHW holds a minority stake in US-based The LiveKindly Collective, a new company focused on the alternative-protein market previously trading as Foods United.
PHW, headquartered in Rechterfeld, Lower Saxony, has also invested in cell-based meat start-up SuperMeat in Israel, and formed a distribution and merchandising partnership in Europe with faux egg business Just in the US.
Dr. Ingo Stryck, the marketing director for PHW, said: "The motto for our range is: enjoy meatless – tastes legendary. A wish that more and more consumers have. There are many reasons why alternative products are used. But one thing is certain: the overall market for meat substitute products is booming."
A spokesperson for PHW told just-food the Green Legend brand of products are made with peas, "field" beans, corn and wheat, and some items in the range are currently stocked by retailer Kaufland in Germany, adding the company is working on increasing listings nationally and internationally.
are produced without soy, palm oil or coconut oil it did not disclose the ingredients, which just-food is currently clarifying with the company along with geographical markets and stockists for the new line-up.