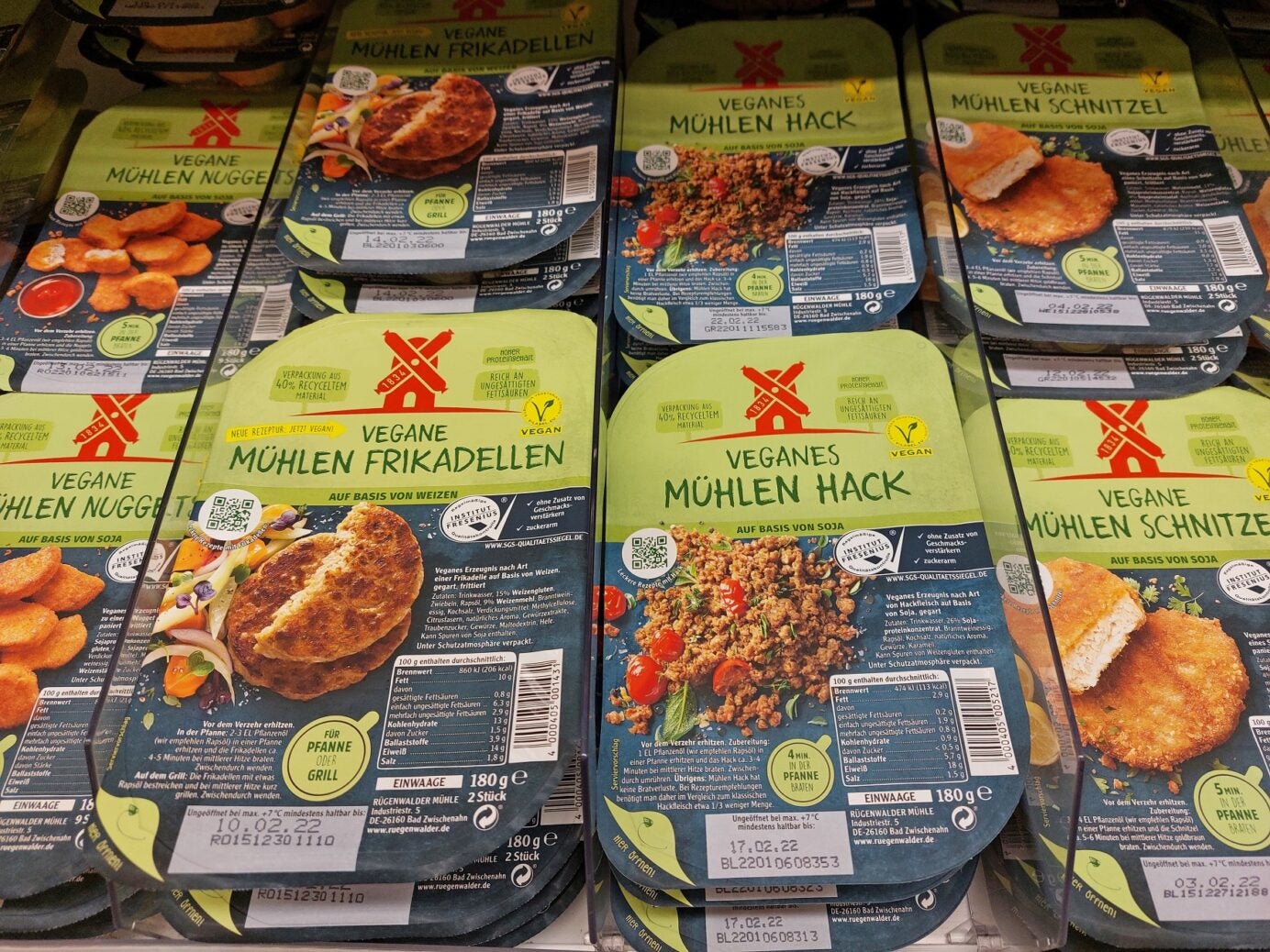 Rügenwalder Mühle, the German group with its origins in meat, has snapped up another factory to make vegetarian and vegan foods – and is looking for others.
Last year, the company saw its sales from meat alternatives surpass sales from meat for the first time.
Rügenwalder Mühle has bought a manufacturing facility in Vechta, northern Germany, from local meat processor Fleisch-Krone.
The site is Rügenwalder Mühle's third factory; the other two are further north in Wilhemshaven and in Bad Zwischenahn, the group's headquarters. At the Bad Zwischenahn factory, the company also makes meat products.
"In the new factory, we will produce only our vegan and vegetarian products. With this new capacity we have the opportunity to build a new, modern site so that our vegan and vegetarian production can grow further," a spokesperson for Rügenwalder Mühle told Just Food.
"We're looking for new capacities and that we want to extend our production opportunities – especially in our vegan and vegetarian sector, so we're still looking for new spaces and are open for new opportunities."
In 2021, Rügenwalder Mühle generated net sales of EUR263.3m (US$277.8m), up 12.7% on 2020.
"Over the full year, we sold for the first time more of our vegan and vegetarian products than of the classic meat products. Last year, the ratio had been fifty-fifty," the spokesperson added, without giving detailed figures.
She added Rügenwalder Mühle's meat sales fell 1.9%, while sales of vegetarian and vegan products jumped 41.6%.
Asked how the group plans to grow its meat sales, the spokesperson said: "On both our sectors we constantly have the ambition to release even better products. Our team in research and development works constantly to create new products but also to make the ones we have even better. Rügenwalder Mühle is a traditional family-owned business and our customers know that with us they get the best taste and quality."
The company, which so far sells only in Germany, is not providing sales forecasts for 2022.
"Against the background of the war in Ukraine and very high inflation in Germany, it's hard to make any clear forecasts. The war intensifies the tight situation at the commodity market, which makes it hard to predict, especially with the current shortage of raw materials," the spokesperson said.
"We need to check this situation constantly – as well as the pricing with our trading partners. In general, we feel optimistic about the future but, with these latest developments, we're more slightly optimistic about it."